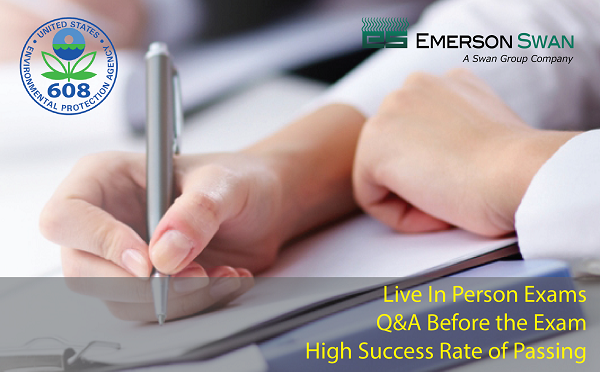 EPA regulations under Section 608 of the Clean Air Act require that technicians who maintain, service, repair, or dispose of equipment that could release refrigerants into the atmosphere must be certified.
Technicians are required to pass an EPA-approved test to earn Section 608 Technician Certification. The tests are specific to the type of equipment the technician seeks to work on. Tests must be administered by an EPA-approved certifying organization.
Emerson Swan's lead trainer Kevin Shea is a certified proctor for the EPA exam. If you would like to obtain your Technician Certification live and in-person rather than online, please register below for one of our upcoming exams.
Each technician will receive the following after registering:
Exam study guide, which will be provided prior to your exam date
Links to practice exams to get a feel for what will be presented
Proctoring of the exam (the exam takes 2-3 hours)
Submitting your results to EPA
Prior to the test, the proctor will review some of the key elements that get covered and answer questions for about an hour. This way you will feel confident going into the exam. After several years of proctoring tests, we have found that this method has the highest success rate of passing the exam and gaining the knowledge that will be useful in the field when handling refrigerant.
Questions? Feel free to contact us. We're happy to help.
Registration
Please complete the registration form below. The minimum required class size is 6. If we do not reach the minimum class size you will be notified and offered either a refund or another date. The maximum capacity of each class is 18 seats. Classes are held at Emerson Swan's office: 300 Pond Street, Randolph, MA 02368. Payments are made through PayPal. You do not need to have a PayPal account. All major credit cards accepted.